The Upholstery Workshop
---
Upholstery
Why upholster an old piece of furniture when you can buy new?
Reasons include:
Superior Fabrics
We choose only the highest quality materials. Mass produced furniture is always built to a price. We are only covering your item not hundreds of them. Therefore we do not have to worry about securing volume quantities. We make sure that the fabrics we use will not only look good initially but will stay that way for years to come. We will also advise on the suitability of fabrics for different applications.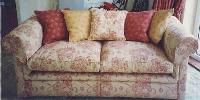 Wider Choice of Fabrics
We work with you when choosing fabric, so we use what you choose. There are literally thousands of samples to choose from.
Improved Fill and Padding
| | |
| --- | --- |
| When we upholster your existing furniture we have the opportunity to improve on the original. In hidden areas where furniture makers save money we will apply the same attention to detail as in our choice of fabrics. | |
Sentiment
| | |
| --- | --- |
| We get attached to our furniture, so why throw away a perfectly good piece when you can have it improved for the same amount of money! Many of our customers opt for recovering because they simply love their old furniture. | |
Please email to arrange your free quote.
e-mail sales@foamsales.co.uk
(Please note we only operate around Leighton Buzzard and Bedfordshire and Hertfordshire. Please call to see if you are in our area)